My name is Nicole Crook, I am fourteen years old, and my parents own Gum Creek Boards. Almost a year ago, my mother and I were able to cater for a group of women in Oklahoma. Each month these long-time friends would gather to simply have a good time. They would take turns being the hostess of the night, planning fun and lively events, and gifting each other meaningful gifts. As a result of the event, one of the ladies fell in love with Gum Creek Boards' small wood charcuterie boards (shahr-ku-tuh-ree), and had it personalized with a hen engraved in the lower corner as her gift to her friends.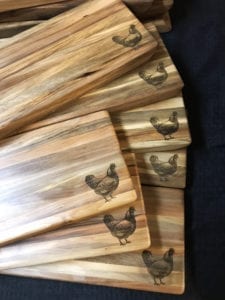 Family Baker
She also asked if my mom could cook for them, and she agreed. Mom's side of the family is Greek, so she decided to make some classic Greek goodies. Finally, after a week of begging, I got to be her sous chef. As we prepared for the meal at home, she allowed me to make the biscotti, which is a cookie that is traditionally dunked in a nice warm mug of coffee or tea. I am the baker in the family, so she knew that she could trust me with the recipe, or so she thought. Well, you see, I accidentally made the mistake of putting cumin in the cookie instead of cinnamon. In my defense, the bottles looked very similar. Thankfully we had just enough ingredients to remake the cookies.
The Power of Friends and Food
Once we arrived at the very nice woman's home in central Oklahoma, mom started to prepare for the arriving party. She prepared hors d'oeuvres, the entrée, and dessert. The hors d'oeuvres were dressed on some of our charcuterie boards. I have always looked up to my mother's ability to not only make the best home-cooked meals but, above all, how she can arrange simple foods on a serving board to look as if a world-class chef had plated the food. As the women arrived and began to eat, talk, and laugh with one another, I realized how warm food and good friends can make anyone smile. In this blog, we want to share with you three of the heartwarming and delicious recipes used that night. Furthermore, I hope that you enjoy them and thank you for reading.
Recipes
Spanakopita
1 Large Container of Fresh Spinach
1 Small Red Onion
2 Cloves of Garlic chopped
1 Container Block Feta
1 Small container of Ricotta Cheese or ½ of a large container
3 to 4 eggs
2 Sticks of Butter
1 sleeve of filo dough (2 sleeves come in a box)
Directions
Saute fresh spinach, red onion and garlic together in olive oil. Melt the two sticks of butter in the microwave. Once the spinach has reduced down place in tea towel and ring out excess liquid. In a medium bowl mix feta, ricotta, and eggs together. Add the spinach mixture, and mix until all ingredients are incorporated. Get thawed filo sleeve and unroll the filo dough. Place the dough between two tea towels to keep it from drying out. Working quickly, butter the bottom of a 9×13 baking dish, place two sheets of feta down, butter the top, place two sheets down, and repeat until you have 8 sheets as a base. Then spoon over the filo the spinach mixture. Continue adding 2 sheets of filo and buttering the top of the second sheet until you run out. Cut up into desired portion sizes with a sharp knife. Bake at 350 for 40 min until top is golden brown.
Bacon-Wrapped Dates
1 pkg of Thick cut bacon
1 pkg of Pitted Dates
1 pkg of almonds
Directions
Cut into date, stuff date with almonds (2) wrap ⅓ of a slice of bacon around date. Bake at 375 until bacon is cooked. About 25-30 min
**Note – you can stuff with goat cheese, feta, philly cheese and jalapenos, cranberries and walnuts…use your imagination 🙂
Herb Whipped Feta
1 Block Feta
1 Block Philadelphia Cream Cheese
1 sm sprig of Rosemary
2 or 3 leaves of fresh Basil
Directions
Place all ingredients into a food processor. Blend on high until mixture is smooth and creamy.