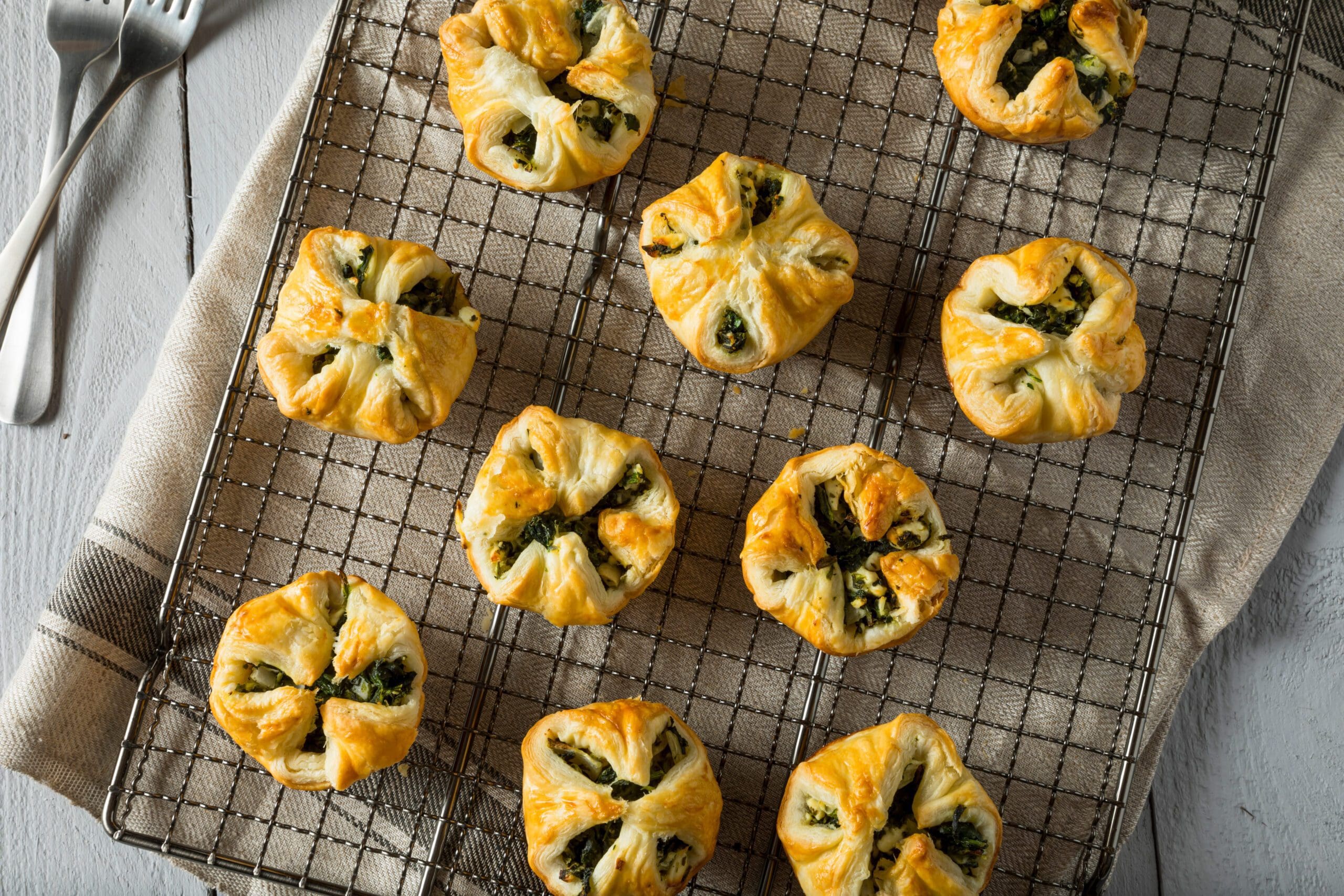 Ingredients:
1 package of thawed puff pastry 
1 small yellow onion 
2 tbsp olive oil 
2 tbsp garlic minced 
1 tsp salt 
1⁄2 tsp pepper 
6 cups of fresh spinach 
1⁄2 cup heavy cream 
Pinch of nutmeg 
1 8oz block of feta cheese 
Some butter to melt and brush on the pastry  
Steps:
Preheat your oven to 375 degrees Fahrenheit. While your oven is preheating, line a tray with parchment paper or foil.

 

Unfold your thawed puff pastry and cut into 9 equal-ish squares (they don't have to be perfect). You can do this by using a sharp knife to cut three lines horizontally and vertically, so it forms a grid of nine squares!

 

Cover the squares with a damp tea towel and set aside. You do this so that the puff pastry won't dry out on you, and it will make it easier to work with.

 

Dice a yellow onion. You will want to get the diced parts small so that you don't get a lot of onion in one bite. Add the diced onion to a frying pan and add your olive oil and minced garlic.

 

Sauté this mixture in the pan for a couple of minutes or until it is soft.

 

Season with your salt and pepper.

 

Add your spinach and continue to cook until the spinach has wilted down. While you're cooking, you will want to stir and move the contents in the pan often.

Add the cream and continue to cook until the cream has thickened. Add a pinch of nutmeg and transfer the mixture to a bowl.

 

Break apart your feta and add to the spinach mixture. The feta should be in clumps about the size of a quarter or smaller.

 

Spoon this mixture onto the puff pastry squares.

 

Wet the corners of the puff pastry with a little cold water and fold the corners to the center to form a little package.

 

Place the spinach puffs onto the baking sheet and brush the tops with some melted butter.

 

Place in the oven and cook until they are brown on top, about 12-15 minutes.

 

Take out of the oven and enjoy!

 
There you have it! This dish is a great appetizer for any party and the perfect dish to warm your tummy. My mouth is watering right now as I write this blog! I hope you enjoy Spanakopita as much as the Gum Creek Family does and we all hope you have a wonderful week!